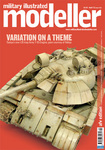 miiltary illustrated modeller
- April'12 (012) - Published 15th March 2012
• NUREMBERG TOY FAIR 2012
A concise photo-report from the world's largest hobby show
• THE MIGHTY ONE
Trumpeter's 1:35 Voroshilovetz artillery tractor with distinctive weathering
• WELD-DONE EFFECTS!
A couple of simple tricks to ease the process…
• GREEN AND YELLOW OR GREEN AND BROWN?
Angus Creighton discusses Panther camouflage
• A CHALLENGER FOR THE KING TIGER'S THRONE
Hobbyboss's 1:35 T26E4 Super Pershing
• RESPLENDENT RHINOCEROS!
Dragon's Nashorn is so good, it doesn't need much refinement!
• VARIATION ON A THEME
Marcus Nicholls builds Tamiya's new 1:35 Iraqi Army T-55 Enigma
•…AT THE FALL OF THE REICH
Painting Mig Productions' Berlin 1945 Russian infantryman figure
• GETTING GRIZZLY WITH IT
Combining two Dragon kits to create a 1944 Brummbär